Benchmark US indices closed the session lower for the second-consecutive day on Friday, February 18, amid Ukraine border tension and weak forecasts by companies.
The S&P 500 declined 0.72% to 4,348.87. The Dow Jones fell 0.68% to 34,079.18. The NASDAQ Composite dropped 1.23% at 13,548.07, and the small-cap Russell 2000 fell 0.80% to 2,011.93.
US officials warned on Friday that a Russian invasion of Ukraine is imminent as all diplomatic efforts to avert a war failed. According to the US envoy to the Organization for Security and Cooperation in Europe, Russia has stationed roughly 190,000 soldiers near the Ukraine border.
Brent crude was marginally up yet again on Friday amid the geopolitical tension. There was no surprise gain in oil prices on expectations of additional supply from Iran. Analysts expect prolonged global inflation due to the war conditions.   
Nine out of 11 sectors of the S&P 500 index closed in red on Friday. Consumer staples and financial stocks gained, while energy, industrials, and technology were the bottom movers.
Shake Shack, Inc. (SHAK) stock fell more than 4% in intraday trading after posting quarterly results. Its revenue guidance for the first quarter missed expectations.
Streaming company Roku, Inc. (ROKU) stock plummeted over 25% after missing quarterly revenue estimates. It reported supply chain disruption for the decline in TV sales.
Chemical company Celanese Corporation (CE) stock slumped over 5.4% after its US$11 billion deal to buy Dupont's mobility and materials unit.
DuPont de Nemours, Inc. (DD) stock traded at 0.6% lower in intraday trading.
Also Read: Is HyperVerse (HVT) crypto a Ponzi scam?
DraftKings Inc. (DKNG) stock plunged more than 19% after it said it expects a wider loss in 2022. Its revenue increased by 47% YoY in the fourth quarter.
In the material sector, Linde Plc (LIN) stock surged 1.71%, Sherwin Williams Company (SHW) increased by 2.51%, and Ecolab Inc. (ECL) rose 0.41%. Rio Tinto Group (RIO) was up 1.26%, and Air Products and Chemicals Inc. (APD) grew 0.77%.
In the consumer staples sector, Procter & Gamble Company (PG) stock gained 0.02%, PepsiCo Inc. (PEP) increased by 0.47%, and Unilever PLC (UL) jumped 1.15%. The Coca-Cola Company (KO) rose 0.64%, and Diageo Plc (DEO) increased by 0.65.
In the energy sector, Exxon Mobile Corporation (XOM) declined 1.05%, Chevron Corporation (CVX) fell 0.40%, and ConocoPhillips (COP) decreased by 1.66%. EOG Resources Inc. (EOG) was down 0.73%, and Shell Plc (SHEL) fell 0.82%.
The global cryptocurrency market dropped 2.38% to US$1.82 trillion, as per coinmarketcap.com at 3:28 pm ET. Bitcoin (BTC) price fell 2.29% to US$40,110.76 in the last 24 hours.  
Also Read: Akanda Corp IPO: When will the cannabis firm debut? Know details
Also Read: Why did Ukraine legalize cryptocurrency amid war fears?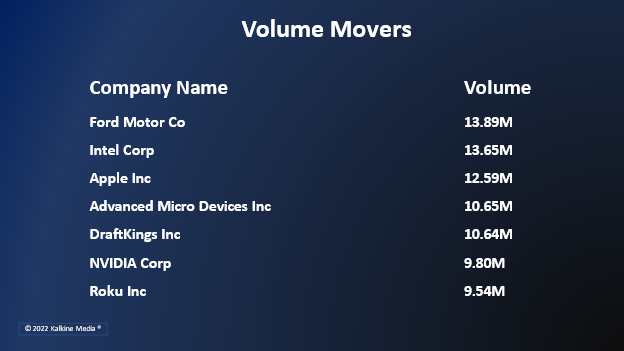 Also Read: S&P 500's KMI, VNO among top 7 dividend stocks to watch now
Futures & Commodities
Gold futures fell 0.24% to US$1,897.35 per ounce. Silver futures increased by 0.19% to US$23.920 per ounce, while copper futures surged 0.04% to US$4.5250.
Brent oil futures increased by 0.70% to US$93.62 per barrel and WTI crude futures were down by 0.28% to US$91.50.
Bond Market
The 30-year Treasury bond yields decreased 2.91% to 2.246, while the 10-year bond yields were down 2.48% to 1.925.
US Dollar Futures Index surged 0.28% at US$96.070.