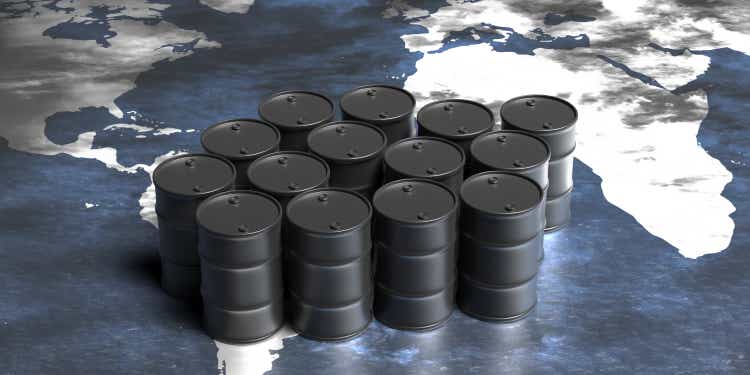 A guest post by D Coyne
The OPEC Monthly Oil Market Report (MOMR) for February 2022 was published last week. The last month reported in each of the charts that follow is January 2022 and output reported for OPEC nations is crude oil output in thousands of barrels per day (kb/d). In most of the charts that follow the blue line is monthly output and the red line is the centered twelve-month average (CTMA) output.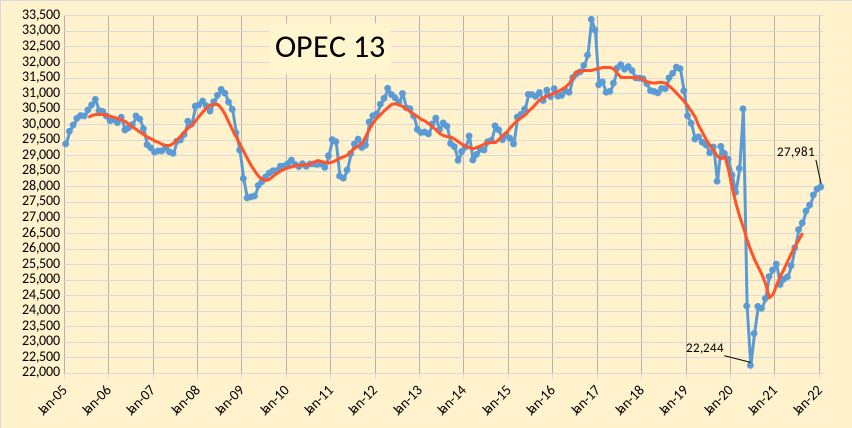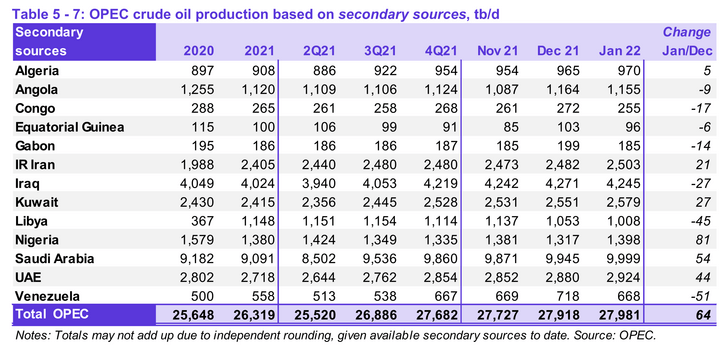 OPEC produced 27881 kb/d of crude oil in January 2022 based on secondary sources, an increase of 64 kb/d from December 2021. November 2021 output was revised higher by 12 kb/d from what was reported last month, and December 2021 output was revised up by 99 kb/d compared to the January 2022 MOMR. Most of the increase in OPEC output was from Nigeria (81 kb/d) and Saudi Arabia (54 kb/d) followed by UAE (44 kb/d), Kuwait (27 kb/d), and Iran (21 kb/d). Five OPEC members saw decreases, Venezuela (-51 kb/d), Libya (-45 kb/d), and Iraq (-27 kb/d) with others having decrease of less than 15 kb/d.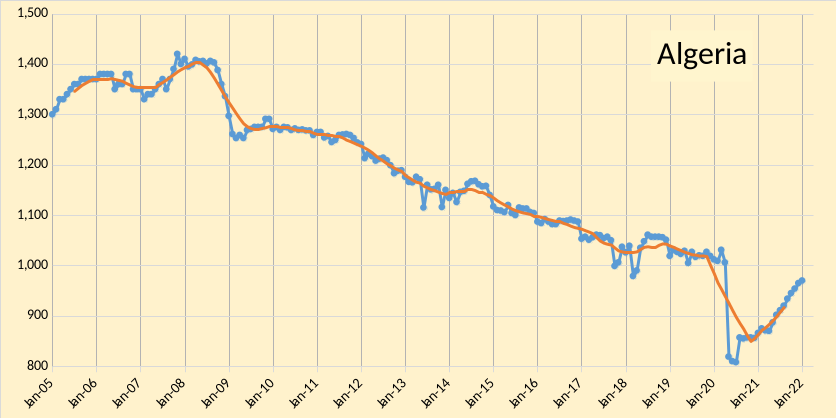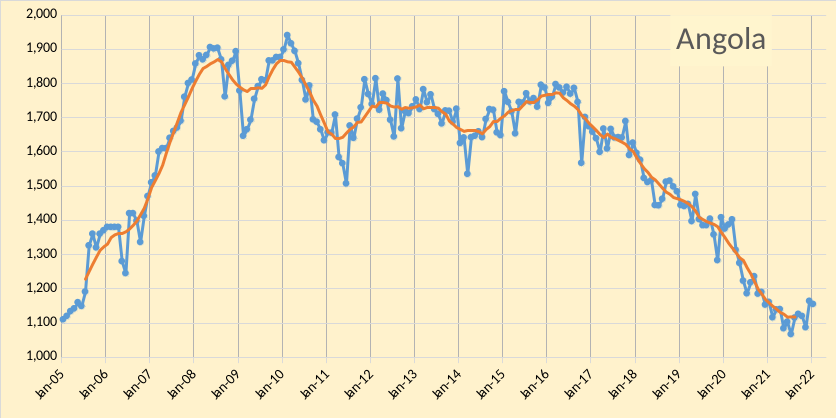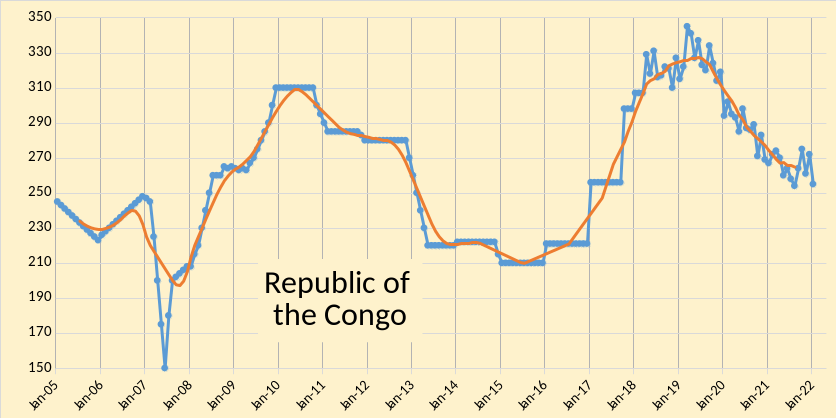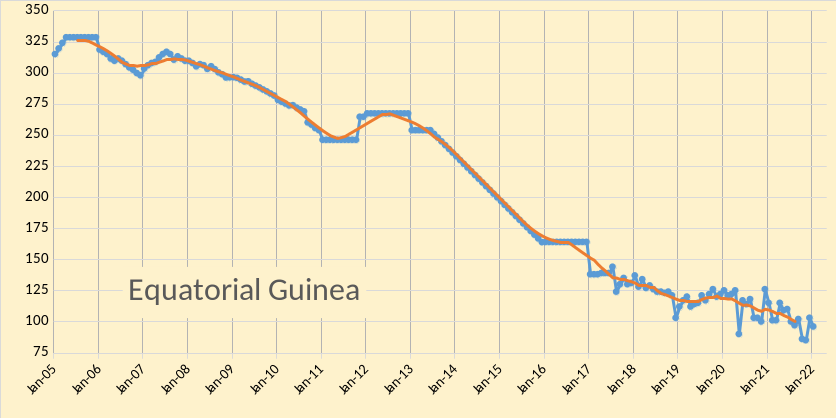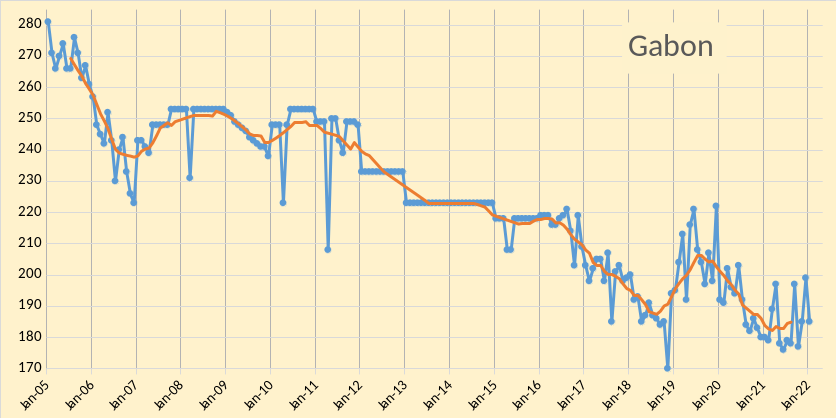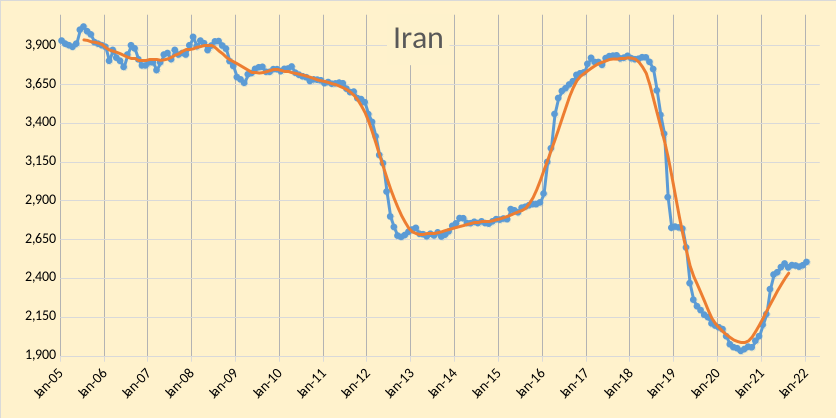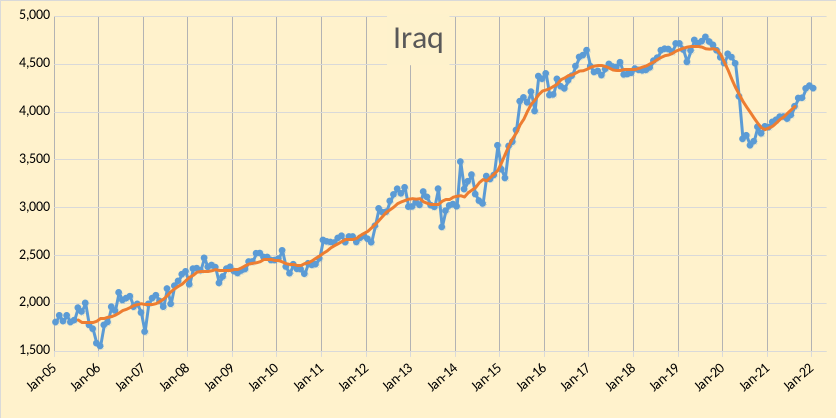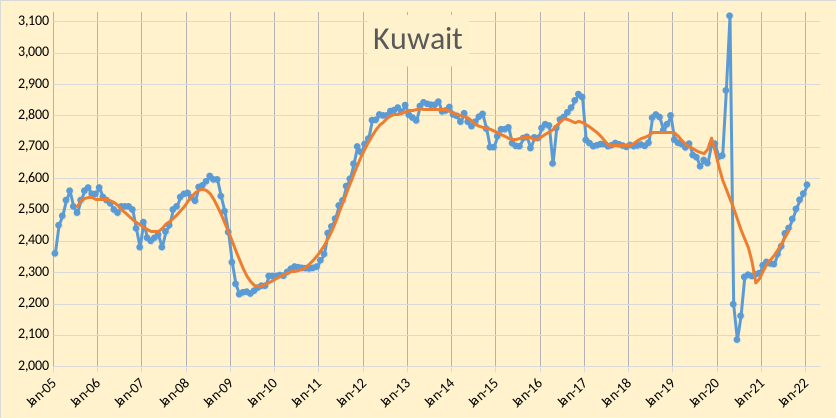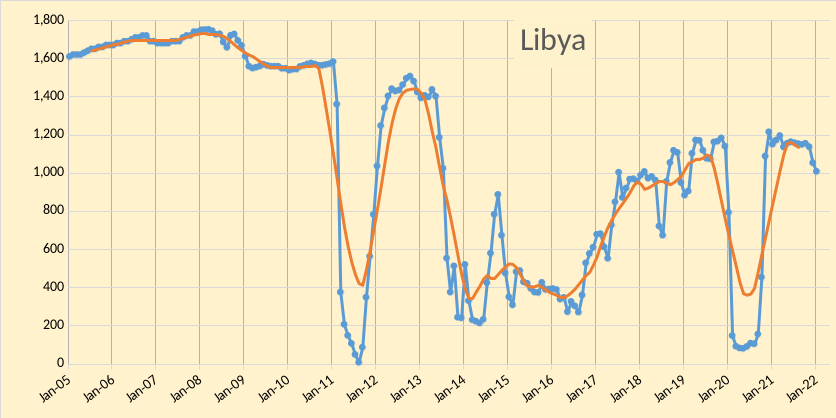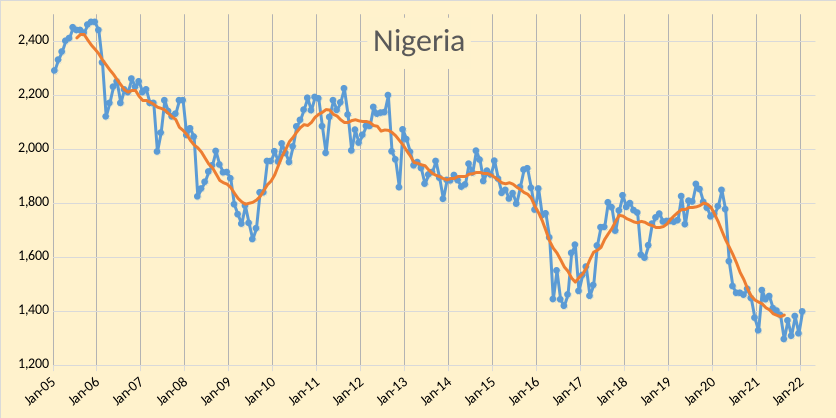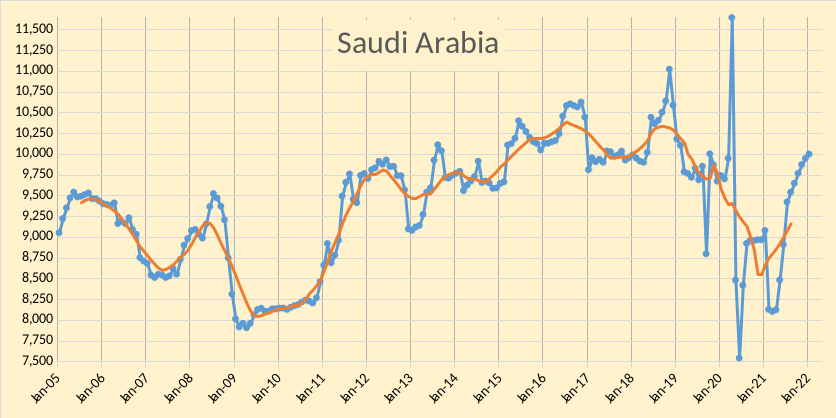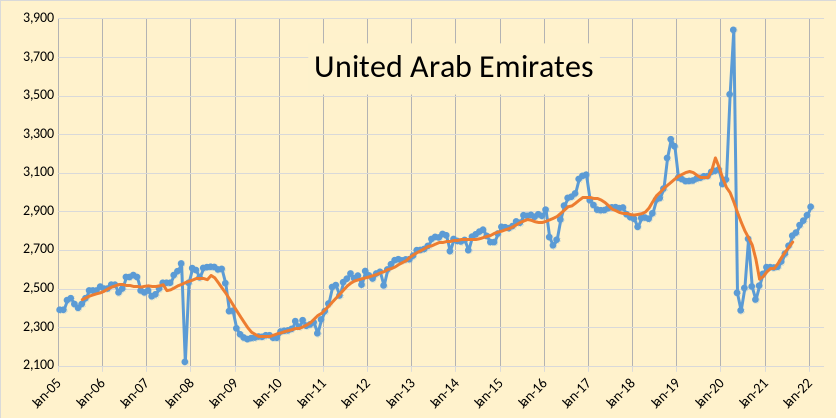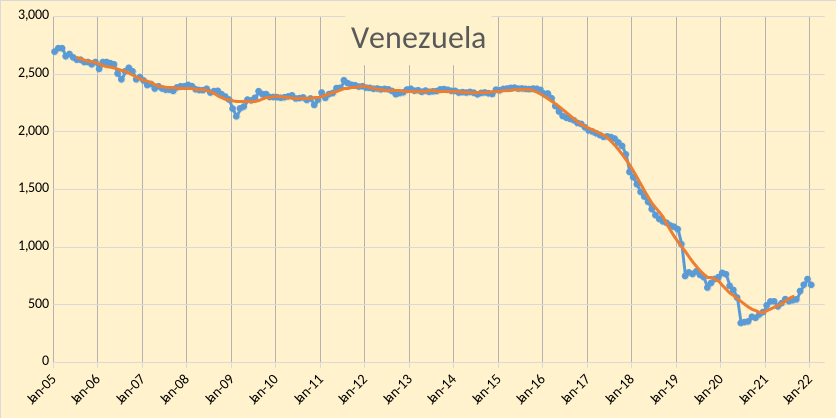 In the chart below, OPEC 13 crude and Russian C+C are shown, I expect that OPEC 13 crude plus Russian C+C will likely top out at about 40280 kb/d, where I assume there will be no near-term sanctions relief for Iran and Venezuela (together they might add 1800 kb/d in the medium term, if sanctions were removed.) Over the next 6 months, we might see 1300 kb/d added from Russia and OPEC 13. Sanctions relief for Iran might add 1300 kb/d over the 12 months following that relief and for Venezuela, we might see a 500 kb/d increase over 12 months following a removal of US sanctions. Without the US sanctions on Iran and Venezuela OPEC 13 and Russian output might reach 42080 kb/d in the near term.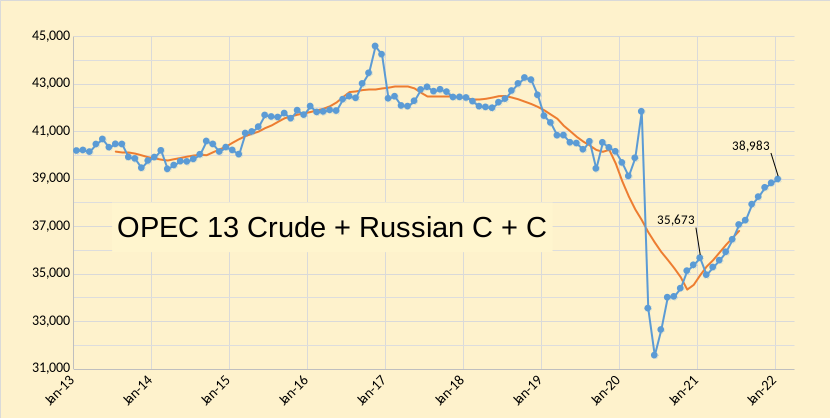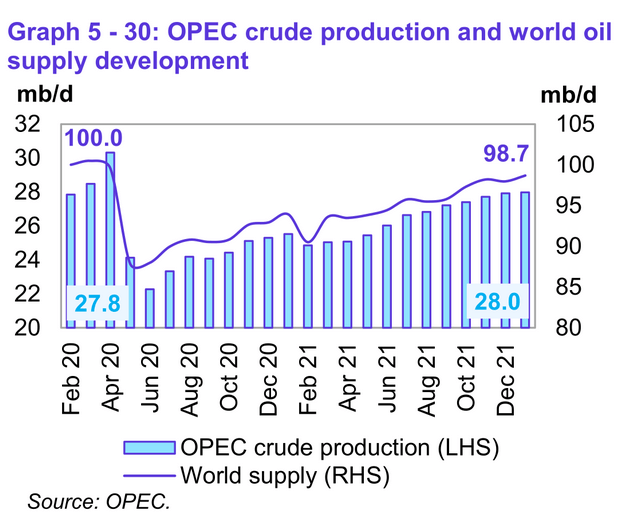 World supply was about 1.3 Mb/d below the Feb 2020 level in Jan 2022 based on OPEC estimates.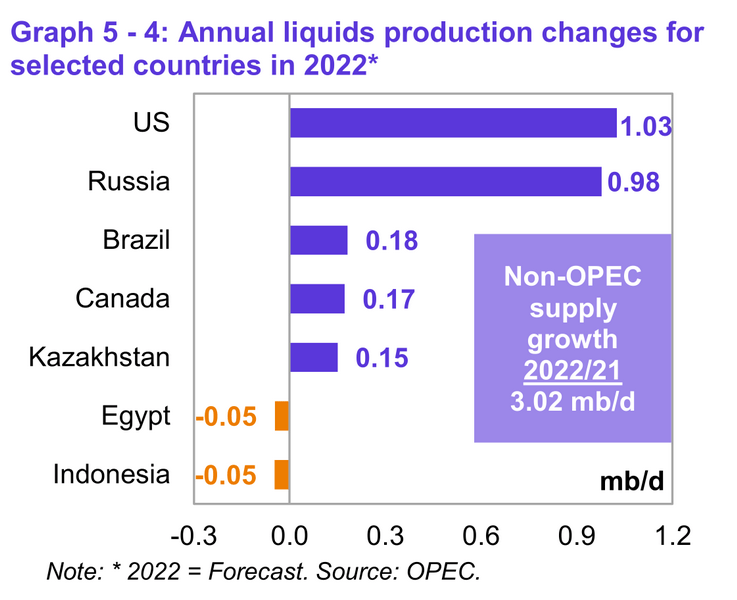 By the third quarter of 2022, the World Oil Market is likely to be short on supply if the optimistic supply estimates of OPEC prove correct. It is unlikely that OPEC will be able to meet the call on OPEC of over 29 Mb/d in the last half of 2022 unless there is sanctions relief for Iran and/or Venezuela. Note also the big jump in non-OPEC output from 2021 Q4 (figure 5) to 2022 Q1 (figure 6) of 850 kb/d forecast by OPEC, this jump seems unlikely.
What is OPEC spare capacity?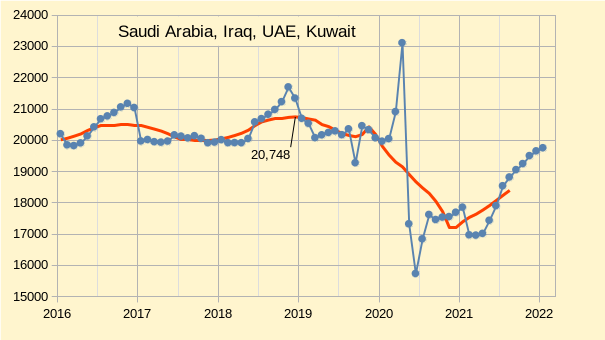 One way to answer this question is to look at the peak 12-month average output of the Big 4 OPEC producers (Saudi Arabia, Iraq, UAE, and Kuwait). This is 20748 kb/d as shown in the chart above. Jan 2022 output for these four nations was 19747 kb/d, all other OPEC nations were producing all the oil they could as they were either not subject to quotas (Iran, Libya, and Venezuela) or were producing below their Jan 2022 quotas. This suggests current OPEC spare capacity of about 1 Mb/d, far lower than the 3 to 5 Mb/d of spare capacity often claimed in media reports. Russia's 12-month average peak for C+C was about 11300 kb/d, so they might be able to increase output by about 300 kb/d from the Jan 2022 level of about 11002 kb/d.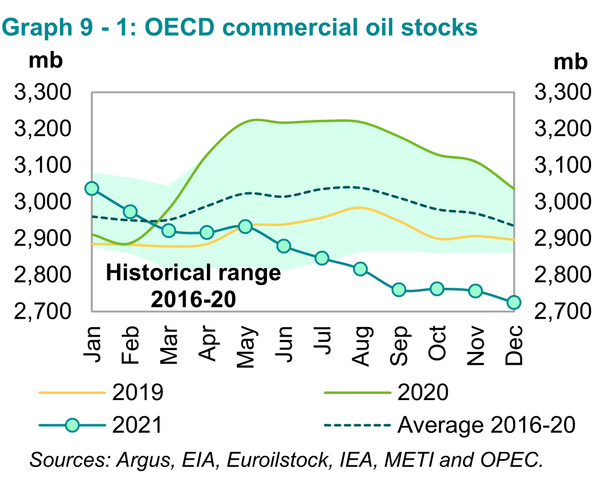 OECD Commercial stocks have continued to trend lower, in December 2021, they were at 2725 million barrels, which is 210 million barrels below the most recent 5-year average. The trend might flatten a bit over the next 2 quarters and then may continue lower in the last half of 2022. For this reason, I expect oil prices may remain above $90/bo over the next 12 months.
Editor's Note: The summary bullets for this article were chosen by Seeking Alpha editors.