Russia was losing power and dominance before it invaded Ukraine. The war has once again elevated Moscow to the forefront of global order and the current geopolitical landscape.
Moscow's comeback, however, has left the West and China in a quandary.
OPEC to decrease oil output
In December 2021, oil prices were $74.17/bbl. But, the conflict between Russia and Ukraine has had an impact on the world economy through supply-chain disruptions, financial sanctions, and higher commodity prices. Together, these factors have pushed up inflation and considerably slowed economic growth, particularly in Europe.
As a result, oil prices went on to rise to $123.70/bbl. The oil prices have stayed above $100 since then. But amidst the reports of a potential revival of the Iran nuclear deal, the prices fell below $90 for the first time in a long time. Iran, which ranks 4th in the world and has a 9.5% share of the world's oil reserves, has been sanctioned by the US. The sanctions make it difficult for Tehran to export its oil.
The hope for increased oil production led to a decrease in oil prices. To put things in perspective, Russia is expected to make $321 billion from energy exports in 2022, an increase of more than a third since 2021. The amount is enough to finance its invasion in Ukraine.
The decrease in oil prices would have dealt a significant loss to Russia. But the OPEC countries are planning to tighten their production. That will take oil prices back to around $100 a barrel.
Read more: Now, Russia cuts off Central Asian oil supply lines to Europe
The Saudi Arabian energy minister, Prince Abdulaziz bin Salman, told the state news agency that OPEC+ has the commitment, adaptability, and resources to address problems and offer assistance, including decreasing output at any moment and in various ways. He also said that future prices don't reflect the underlying dynamics of supply and demand.
Abdulaziz said, "Witnessing this recent harmful volatility disturb the basic functions of the market and undermine the stability of oil markets will only strengthen our resolve."
The statement soon saw oil prices soaring to $97/bbl. Guess what? The fist bump between Biden and MBS when the US President asked Saudi Arabia to increase oil production didn't yield any result.
The West, which is seeing the highest inflation in 3-4 decades will face the heat of the increasing oil prices. Not only this, Saudi Arabia will deal a huge blow to China in Central Asia. 
Saudi Arabia to Uzbekistan
The president of Uzbekistan has reportedly returned from a trip to Saudi Arabia with investments worth $14 billion pledged. $12 billion of that will be used to alleviate ongoing energy shortages.
The contracts include a commitment by the Saudi company ACWA Power to develop a 1.5 GW wind farm in Karakalpakstan. According to the Energy Ministry of Uzbekistan, it will be the biggest in the world and supply power to 1.65 million houses. Two smaller wind farms are being constructed in the Bukhara region by ACWA Power.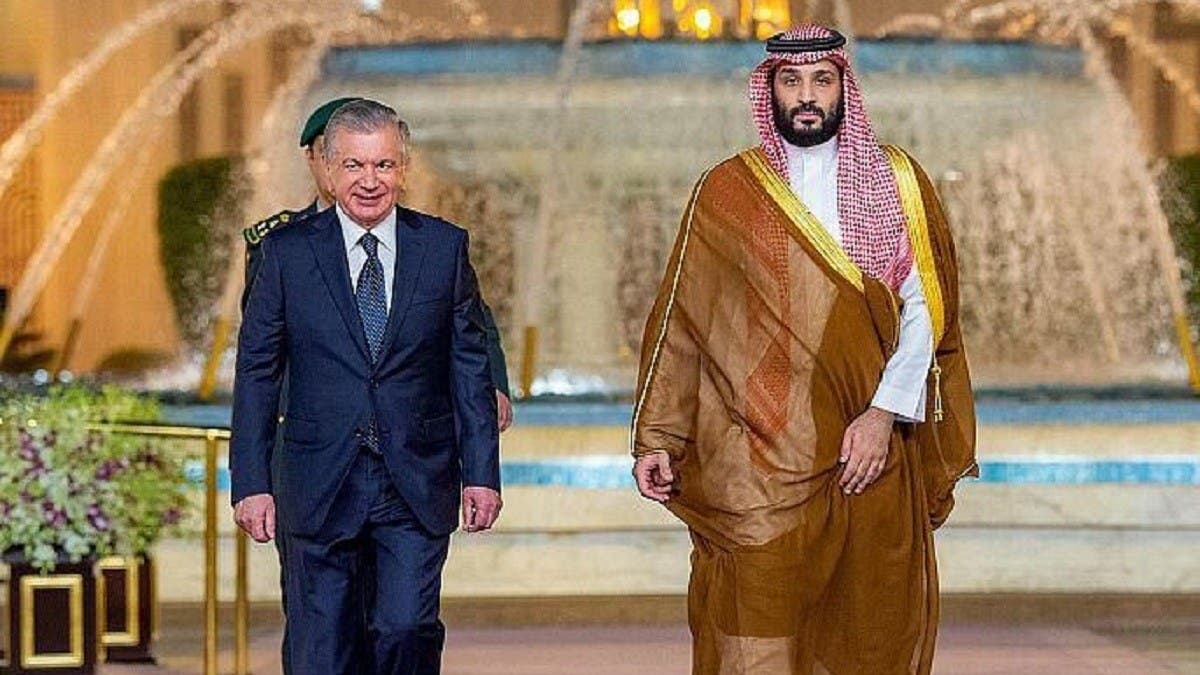 Uzbekistan which is the backyard of Russia was looking to Moscow to rescue itself from the electricity shortages and blackouts. Russia was helping Tashkent an $11 billion nuclear power plant in an area just east of Bukhara since 2018. State-owned Rosatom, a dominant player in the global nuclear power sector, was to complete the work, with loans from Moscow to support it.
Rosatom, however, appears to be much less desirable as a partner now that Russia is the focus of international sanctions, even though the current sanctions regime does not apply to the firm itself.
Richard Nephew, the director of the International Security Initiative at Columbia University's Center on Global Energy Policy, told Eurasianet by email, "Sanctions targeting financial transactions, technology transfers, and the like will all undermine efforts to engage in and complete such projects."
But Western sanctions loomed large on the project. Therefore, to relieve Uzbekistan of its crisis, Moscow would have asked Riyadh to help the Central Asian country.
Investments in the natural gas sector of Uzbekistan are envisioned under another agreement between Uzbekistan and Saudi Arabia. One of the world's top gas producers, Uzbekistan has been obliged to phase out exports due to rising domestic demand.
The agreement between the two parties to enhance Uzbek worker migration to the kingdom was also reported by Saudi media. Numerous Uzbeks are employed in Russia today. Therefore, for Uzbek labour, Saudi Arabia will be a new market.
Read more: Iran's bid to control central Asia may bear fruit with Kazakhstan. Anyway, Putin likes a good fight
This will be a direct threat to China, which has been increasingly looking to spread its tentacles in Uzbekistan. It has invested a huge sum of money in Uzbekistan's Belt Road and Initiative. Despite the fact that the two nations do not border each other, Uzbekistan serves as a crucial node in the BRI because of its position.
Therefore, Saudi Arabia has helped Russia against the effort by Western economies to cap the oil price. It has also dealt a significant blow to China in the Central Asian country of Uzbekistan as the latter allies with Riyadh.