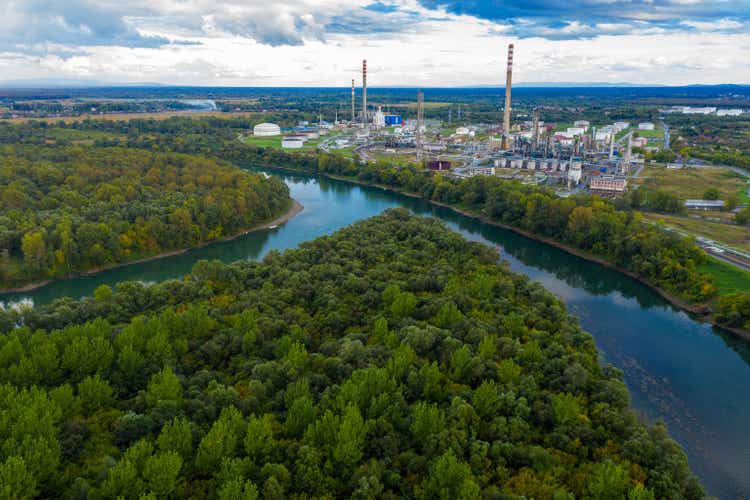 Oasis Petroleum (OAS) had a great run in 2021 as did many oil-related stocks. The rise in oil prices allowed the company to improve its financial performance for strong gains. Strong gains can continue in 2022 as the high price of oil provides positive conditions for Oasis to grow revenue and cash flow. The stock is likely to benefit from strong gains as Oasis trades at an attractive valuation.
Oasis operates as an independent unconventional crude oil and natural gas production company. OAS operates in North Dakota and Montana in the Williston Basin. Oasis has a total of 497 net acres producing 77.7 thousand barrels of oil per day [Mboepd].
Recent Merger Of OMP And Crestwood
The company also has a stake in Oasis Midstream Partners (NASDAQ:OMP) which handles midstream services for crude oil, natural gas, and water-related services. However, Crestwood Equity Partners (CEQP) is in the process of acquiring OMP. When the transaction is complete, Oasis will own 21.7% of Crestwood common units. The merger is expected to close in Q1 2022.
Crestwood brings a set of infrastructure solutions to the table. Crestwood handles the gathering/processing, storage/transportation, and the marketing of crude oil and natural gas, along with other related services. Oasis Petroleum is poised to benefit from its stake in Crestwood as it is a strong producer of positive cash flow. Crestwood produced about $485 million in operating cash flow over the past 12 months. This adds to the $207 million of operating cash flow that Oasis Midstream Partners produced over the same time period. For context, Oasis Petroleum produced $788 million of operating cash flow over the past 12 months.
Oasis expects to generate significant sustainable cash flow going forward. This can help drive the stock higher as it increases the value of the company in the minds of shareholders.
Industry Tailwinds
EIA expects the price of crude oil to fall slightly in 2022 and 2023 from current levels. However, the average price is expected to remain in a profitable range for many oil companies, including Oasis Petroleum. EIA is projecting the price of Brent crude to average $75 per barrel in 2022 and $68 in 2023. The price of WTI crude tends to run a few dollars below Brent crude. Most oil company executives believe that oil prices above $60 per barrel will complement or boost their energy transition plans in the near term. The expected price level should keep Oasis profitable, producing strong cash flow in 2022 and 2023.
The production and consumption of crude oil is expected to remain at a fairly close balance in 2022 and 2023. Production might be slightly higher than consumption during this time period. However, the price should remain in a strong range above $60 per barrel with this close supply/demand balance. We can see that the larger gap in supply and demand in 2020 led to a sharp sell-off in price. This is not the case for 2022 and 2023 assuming that the economy operates at normal levels as opposed to being shut down. So, conditions are likely to be conducive for oil companies to produce strong cash flow over the next 2 years.
Oasis Petroleum's Strategies
Oasis has strategies to maximize performance leading to shareholder value. One of these strategies is to produce cash flow and sustainable returns through the development of its properties while maintaining capital discipline. Oasis has achieved a strong return on assets of 29%.
Furthermore, Oasis reduced its total debt from over $2.7 billion in 2018 and 2019 to the current level of about $1 billion. At the same time, total cash increased from $20 million in 2019, $16 million in 2020, up to about $449 million in 2021. So returns and capital discipline have improved as part of the company's strategy.
Another strategy is continuous improvement of operations and cost structure to reap the benefits of economies of scale. This includes drilling multiple wells from single drilling pads into multiple formations. This reduces the time & cost of rig mobilization, centralized infrastructure, and production. Currently Oasis has 20% of its 670 well inventory using 3-mile laterals. Oasis is working on increasing this percentage to 40% over the next 4 years. The longer laterals provide more efficiency. So, the company can spend 25% and get 50% more in reserves.
Oasis also has responsible processes for capturing natural gas and reducing emissions. Oasis captures about 96% of natural gas production in North Dakota. The company's flare percentage is 2/3 less than the average for North Dakota operators. Oasis also reduces emissions by capturing gas for other operators.
Valuation
Oasis Petroleum is trading with a forward EV/EBITDA of 5.96 and a forward price to cash flow of about 5. The company is trading attractively below the sector average forward EV/EBITDA of 7.96 and forward price to cash flow of 6. Oil and gas companies are still valued attractively in this market where so many stocks trade with high valuations. Oasis is one of the lower valued companies in this space.
Oasis is expected to grow revenue at a strong pace of about 14% to 15% in 2022 (consensus). This should help drive strong growth in EBITDA and cash flow, which should help drive the stock higher from this attractive valuation level.
The Risks
Oil production in the industry could turn out to be higher than what was previously forecasted. If production is significantly higher than consumption, then it is possible that the price of oil drops lower than originally expected. This could reduce the amount of EBITDA and cash flow for Oasis. The unpredictability of the COVID pandemic leaves this scenario on the table. It is possible that another variant emerges that leads to some countries or regions to implement lockdowns. That could cause a low demand for oil and a supply glut. Of course, any slowdown in overall economic activity could lead to a decline in the price of oil.
Outlook For Oasis Petroleum
The price of WTI crude oil just hit $87 per barrel, showing strength. So, 2022 is off to a good start for Oasis to maximize its gains from its production. Although the price of oil may drop a little in 2022, it is expected to remain at overall strong levels averaging about $75 per barrel for the year. This level can keep conditions conducive for Oasis to produce strong cash flow.
Watch for the completion of the Crestwood-Oasis Midstream Partners merger to be completed in Q1 2022. While Oasis Petroleum only pays a dividend of 1%, Crestwood has a yield of about 8.8%. Both are strong producers of positive cash flow allowing them to maintain and increase distributions to shareholders. So, investors can consider both.
Oasis has solid strategies to increase efficiencies and production yields. This should help keep the cash flow strong and growing while the price of oil remains high. Overall, 2022 looks positive for the stock as Oasis grows the top and bottom lines from a low valuation level.