By Chen Cheng-hui / Staff reporter
Gasoline and diesel prices are to rise NT$0.2 per liter this week, despite a decline in global crude oil prices last week, CPC Corp, Taiwan (CPC, 台灣中油) and Formosa Petrochemical Corp (台塑石化) announced separately yesterday.
Effective today, gasoline prices at CPC stations are to increase to NT$29.2, NT$30.7 and NT$32.7 per liter for 92, 95 and 98-octane unleaded gasoline respectively, while the price of premium diesel is to rise to NT$27 per liter, the state-run refiner said in a statement.
Formosa said that its prices for 92, 95 and 98-octane unleaded gasoline would be NT$29.2, NT$30.7 and NT$32.7 per liter respectively, while premium diesel would cost NT$26.8 per liter.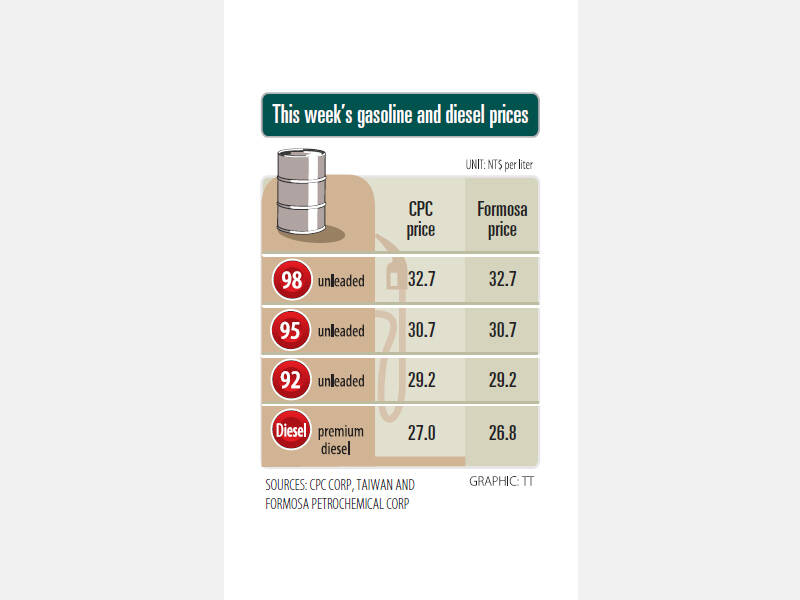 CPC said that based on its floating oil price formula, the cost of crude oil fell 4.99 percent last week from a week earlier, as market sentiment had turned sour due to several adverse factors.
"Oil prices fell last week,due to an OPEC projection of lower oil demand next year and an anticipated increase of 9.19 million barrels per day in US shale oil output next month," CPC said.
A surge in the number of confirmed COVID-19 cases in China, coupled with market concerns that continued US interest rate hikes would deepen a global recession also contributed to the crude oil price decline, Formosa said.
The firm followed CPC's price adjustments after taking into account trends in the global oil market, the exchange rate for the New Taiwan dollar and fierce competition in the domestic market, Formosa said.
Comments will be moderated. Keep comments relevant to the article. Remarks containing abusive and obscene language, personal attacks of any kind or promotion will be removed and the user banned. Final decision will be at the discretion of the Taipei Times.