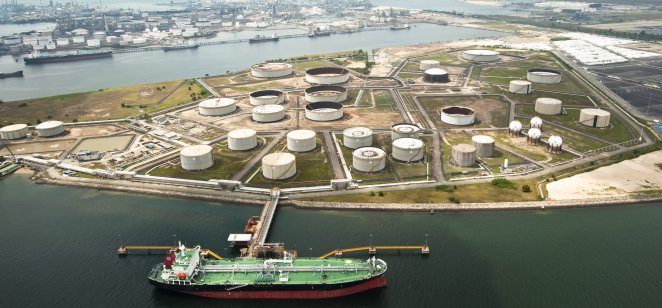 Will it be a fairly uneventful few weeks for crude oil prices? It could, at least until a clearer picture of the global economy's outlook, and resultant fuel demand projections, emerge, according to analysts.
The price of oil has been drifting lower for more than a month now, with the West Texas Intermediate (WTI) grade slipping back from above $120 a barrel to around $95 per barrel more recently.
"Oil prices recently traded to a five month low – reflecting concerns about just how much the global economy will slow down, to the problems of high inflation in major economies," according to David Jones, chief market strategist at Capital.com.
"Since the post-Ukraine invasion highs, oil has struggled to find much direction and has broadly speaking been stuck in a sideways range in recent months. At the moment is seems difficult to see that changing – and even more difficult to think of a reason why oil would take out the March highs.
"Perhaps the best hope is that oil continues to trade in this range," Jones said. He also added that traders should not be "too surprised" if by this time next month both WTI and the global benchmark Brent grade were trading at prices similar to current levels.
Crude oil futures bounced back in early trading in Asia on 22 July after losses through two straight sessions triggered "some bargain-hunting buying", said analysts at Singapore-based energy intelligence firm Vanda Insights.
US crude futures climbed 0.74% to $96.98 per barrel, while Brent oil was up 0.92% at $104.79 a barrel.
"Once again, there was no major news on the fundamentals front in the oil markets on Thursday but crude futures came in for a sharp sell-off starting in the European trading day on the back of growing pessimism over global fuel demand as world economies battle the twin pressures of inflation and monetary tightening," the company wrote in a 22 July note.
Weakening currencies stifle demand
A broad appreciation of the US dollar against weaker Asian currencies is dissolving hopes of a petrochemical demand recovery in Asia, because imports into the region are becoming more expensive, cautioned global commodities intelligence provider ICIS.
A "rising (US) dollar effectively reduces liquidity as most commodities are priced in (US) dollars," New Normal Consulting's chairman Paul Hodges told ICIS on Friday.
"So, when the (US) dollar rises, commodities tend to fall, which is what has happened to many of them since the rise began at New Year," he added.
Lagging recovery for top crude buyer
China is the top importer of crude oil. But the world's second-largest economy is "still limping", said Julian Evans-Pritchard, a senior China economist at Capital Economics.
"Our China Activity Proxy (CAP) suggests that the economic hit from lockdowns had largely reversed in June," Pritchard told clients on Thursday. "But (coronavirus) infection numbers are ticking up again. And even if another large-scale virus wave is avoided, problems in the property sector and headwinds to exports will limit further economic gains."
The price of Brent crude oil plunged about $10 to the barrel on 5 July, the third largest one-day change in absolute terms since the price contract was launched in 1988, dragged down by panic selling, following concerns of a looming global economic recession.
Read more