After Thursday's CPI print there were some very audible sighs of relief coming from Wall Street. Inflation continued to slow for the sixth consecutive month and energy prices were a major factor pulling the CPI lower. But what if oil prices rally again?
While many investors now believe inflation and elevated energy prices are in the rear-view mirror there are still catalysts that can cause energy prices to rally in 2023. And if they do there are several energy related stocks that will rally as well.
Energy Catalysts
There are a few catalysts on the horizon that can really pull energy prices in one direction or the other. First is the economy broadly. A recession would, of course, be bad for energy demand. But thus far the economy remains robust. Even with the aggressive rate hikes by the Fed in 2022, the US economy is very close to full employment, and besides a very brief dip into negative territory GDP continues to grow.
The war between Russia and Ukraine is another major factor. Last Summer analysts were calling for Europe to freeze, and oil and natural gas prices rallied tremendously. But that never came to fruition. And after an abnormally warm winter thus far in Europe, natural gas prices have cratered 80% and are now below their summer prices.
Oil prices have dipped considerably as well. It is never simple trying to predict markets. Whether the war continues or comes to a conclusion will play a big roll in the energy market.
For a few weeks there it seemed inevitable that oil would continue to roll over and trade below $70, but prices managed to hold. Now WTI prices are up 14% over the last 4 weeks, and it looks like oil prices want to break out above $80.
The oil market may be reading into the China reopening story. After scrapping their extreme lockdown policy and reopening the country for the first time since the Covid pandemic began, Chinas economy is starting up again. The possibility of China exporting inflation to the US seems possible, and oil looks to be discounting that possibility.
ProPetro Holding Corp. (PUMP – Free Report)
Many of the large cap energy names have been piled into over the last year, but some smaller companies are still attractive. Thanks to the Zacks Rank it is easy to identify stocks that are expected to grow earnings and possibly outperform the market.
One such stock is ProPetro Holding (PUMP – Free Report) , an oil services company providing drilling and hydraulic fracturing services to firms in North America. PUMP has an impressive set of metrics highlighted by Zacks research.
PUMP sports a Zacks Rank #1 (Strong Buy), highlighting it improving earnings outlook. Current year (2022) sales are expected to grow 45%, and next year is forecast to grow another 33%. Earnings are even more impressive with FY 2022 earnings expected to grow 164%, while FY 2023 earnings are expected to soar 547%.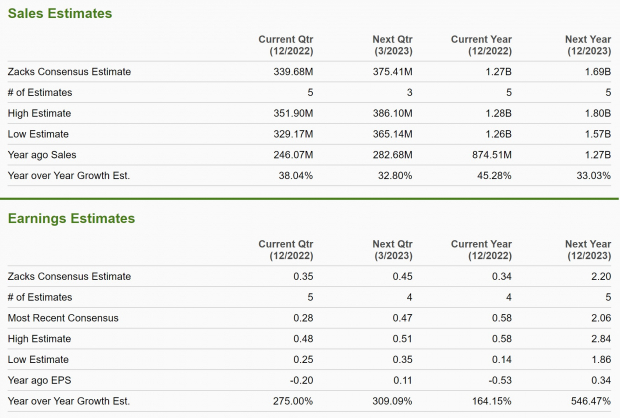 Image Source: Zacks Investment Research
ProPump Holdings also has a very reasonable valuation. One year forward P/E is currently just 4.9x, well below the industry average of 14.5x, and below its 5yr median of 7.3x. PUMP investors can also sleep well at night based on their balance sheet. ProPump currently owns $1.2 billion in assets, with just $313 million total liabilities.
Precision Drilling Corp. (PDS – Free Report)
Precision Drilling Corp. (PDS – Free Report)  is a drilling company providing onshore drilling and exploration services for oil, natural gas and geothermal energy projects. PDS operates in North America and the Middle East. Precision Drilling scores a Zacks Rank #1 (Strong Buy), and according to Zacks industry rank is in the top 4% of companies in the Oil and Gas – Drilling industry.  
PDS also has very promising earnings expectations, with 2022 EPS expected to grow 94% YOY, and 2023 to climb 2,120%.
Earnings estimates are trending higher as well. 2022 estimates were revised from -$1.62 per share 90 days ago to just -$0.62 today. 2023 consensus estimate trends are up too. 90 days ago estimates were $10.50 per share, and are now estimated at $12.55.


Image Source: Zacks Investment Research
Nabors Industries (NBR – Free Report)
Nabors Industries (NBR – Free Report)  is one of the largest drilling and drilling-related services firms for land-based and offshore oil and natural gas wells. NBR is a Zacks Rank #1 (Strong Buy) stock, with additional high grades for Value and Growth in the Zacks Style Scores, both posting As. Like PDS, NBR's Oil and Gas – Drilling category comes in the top 4% of all Zacks industries.
Nabors Industries has high expectations for earnings and sales. FY 2022 sales are forecasted to grow 30% and 2023 sales are forecasted to grow 25%. Earnings are even stronger, with FY 2022 expected to grow 59%, and 2023 expected to climb 157%.
It is worth noting that although earnings expectations continue to trend higher, NBR doesn't have the cleanest earnings history. In the chart below you can see Nabors Industries has missed many of their earnings estimates over the past few years, which investors never like to see. But if NBR can reverse that trend it should be very promising for the share price.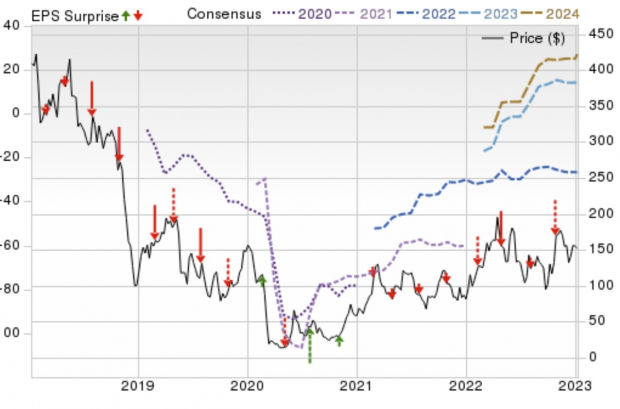 Image Source: Zacks Investment Research
Drilling
An interesting insight from the search shows that the companies with growing earnings expectations are focused on drilling-related services. I wasn't focused explicitly on the sector, but good data led me to these stocks.
Conclusion
While the prevailing narrative would have investors think energy tailwinds have passed the forward-looking data says otherwise.
And if there are no major rallies in oil and gas prices, many of these companies have positioned themselves well for the future. After a painful cycle in the 2010s, firms have readjusted their strategies. Many companies now have stronger balance sheets and conservative earnings multiples, with expectations more in line with spitting off of cash for years to come, rather than over expansion and building out capacity.
Additionally, the sector ETF XLE, appears very strong. As a continued relative leader it looks like prices will soon be making an attempt at last year's high.